Benny Casanova's Square Pies
With Benny Casanova's Square Pies, Chef Franklin Becker is taking the Brooklyn of his childhood to the city of Philly, and elsewhere. A throwback to the chef's first job and a tribute to his mentor, Benny Casanova's updates the quintessential neighborhood pizzeria to deliver crisp square pies with flourishes like toppings of perfectly cupped, crunchy-edged pepperoni. As they say, the devil is in the details.
Pizza is accompanied by… anything but the obvious: Arancini. Filled with the Sicilian traditional, ragu, and made new — this is after all, a Chef Becker restaurant! — with stuffings like carbonara, and cacio e pepe.
Benny Casanova's delivers a tradition from Brooklyn via Sicily to Philly, and soon beyond — with love.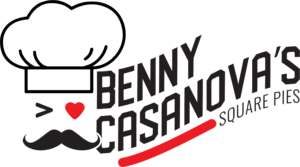 Type
Fast casual square pizza
Accomplishments
Concept development, Restaurant Design & Construction, Menu development.