Shai – An Israeli Hummusiya
Shai (noun): Gift, in Hebrew.
Hummusiya (noun): A casual restaurant with a hummus-centered menu.
Shai — an Israeli hummusiya: a gift of fresh hummus (and more) brought to the doorsteps of Philadelphians. (And soon, to New Yorkers.)
With Shai, Chef Becker has conceptualized a fast-casual restaurant around a favorite quick comfort food — hummus — and expanded it to deliver an array of Israeli-inspired dishes that, like all the chef's recipes, are anything but ordinary.
Chef Becker's menu combines Israeli-inspired recipes with fresh, healthy ingredients, and bold flavors. Traditional hummus, is of course on the menu, but made zesty with sumac. Even the simple sweet potato is exalted with salty-sweet-smoky-sour Turkish Urfa Biber.
Shai is now serving the City of Brotherly Love, including Penn, Drexel, and Center City. And will soon be in the Big Apple!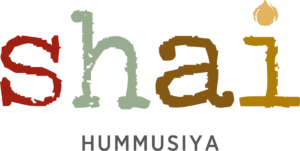 Type
Fast casual humusiya
Location
New York (Uptown & Downtown)
Accomplishments
Concept development, Restaurant Design & Construction, Menu development.